Senior Associate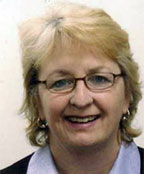 Kit helps global business leaders and their senior teams speed organizational buy-in and delivery of tangible business results. With over 25 years practical consulting experience, Kit serves as both the leader who develops and carries out strategy, as well as the coach who helps mobilize and guide implementation teams. Her work has partnered her with a broad range of global Fortune organizations in the United States, United Kingdom, Europe, China, and Japan.
Areas of Expertise
Customer Service/Training
Curriculum Design & Delivery
Knowledge Transfer
Leadership Development/Training
Certified in Myers-Briggs Type Indicator (MBTI)
Business Background
Global Leadership Development Manager, General Electric Corp, Pittsfield, MA, USA
Commercial Education Manager, General Electric Corp, Pittsfield, MA, USA
Customer Service Manager, General Electric Corp, Selkirk, & Albany, NY, USA
Sales & Marketing positions, General Electric Corp, Schenectady & Albany, NY, USA
Education & Certifications
GE certified Executive MBA through the "Leadership, Entrepreneurship, and Innovation Program" from Hecht & Associates, Sunnyvale, CA.
B.S., cum laude, Marketing/Management Siena College, Loudonville, NY
Myers Briggs
GE Master Change Agent Certification
GE Master Work-out Certification
Adjunct staff member John F. Welch Leadership Center
Personal Background
Kit lives with her husband Will in Pittsfield, Massachusetts, USA. She enjoys family time, reading, music, movies, and enjoys traveling to new and different places in the world.